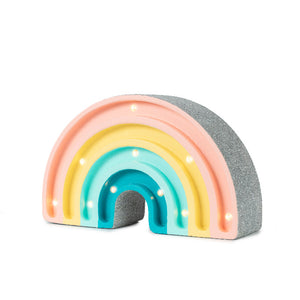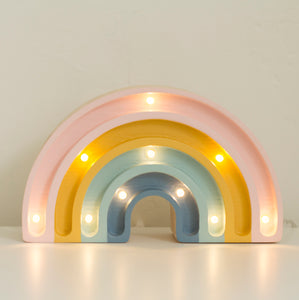 A fun-sized version of our popular rainbow light, the cute Little Lights Mini Rainbow Lamp fills your kids' room with just the right amount of colorful light for a peaceful nap.
This high-quality children's night light is handmade from 100% natural pinewood, making it as strong and durable as it is beautiful.
Fits perfectly in any nursery or kids' room decor, whether sitting bedside, on a dresser, or hung on the wall!
Each lamp also comes with a handy remote featuring both a dimmer and timer for automatic shut-off. Adjust the brightness until it's perfect for falling asleep next to. Then, set the timer so it shuts off after your little one has dozed off into dreamland.
Order now to fill your kid's room with a colorful new aura.
Dimensions (in inches): 8.5×4.5×2
Technical Details:
LED Lights / Warm White 2.2W

Input: AC 100-240

Output: DC24V